Turkeys 6 – Matt 0
I just returned from yet another unsuccessful turkey hunting trip to Nebraska.  I've been making this pilgrimage now for more years than I care to admit (ok about six).  In that time I've introduced multiple guys to the sport who now successfully harvest birds year after year.  To make matters worse they've started giving me pointers trying to help me get my bird.  That only makes it all the more discouraging.  I guess I'll continue to call turkeys my nemesis species.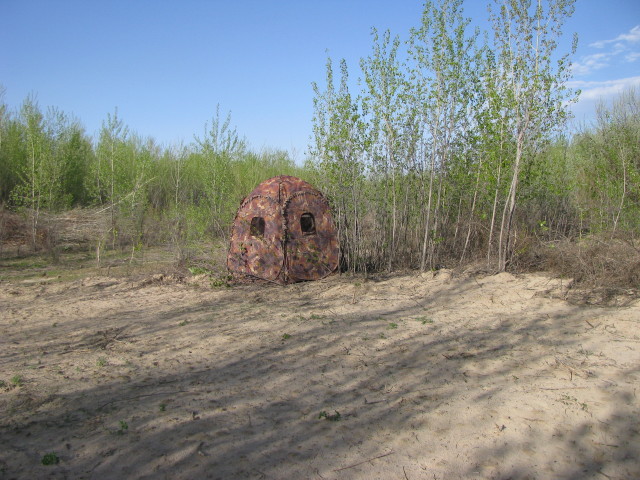 I wasn't going to document this trip because I hate to admit defeat.  And even though I'll once again be eating tag soup this trip was well worth making.  I was thinking over the weekend about all the guys who say it's not about killing an animal but everything that goes along with it.  And while I certainly agree that I hunt for many more reasons than simply killing an animal, I've decided the guys who make this statement might just be making an excuse for an unsuccessful hunt.  Because, lets face it, if you didn't get anything it's really just camping.
I think the real inspiration for this post was the following pictures.  Wendy happened to find these on the computer when looking for pictures of the boys and said she was laughing so hard she couldn't believe I didn't hear her from down in the basement.  When sitting in a turkey blind the main objective is to stay hidden in the shadows of the blind.  That means black clothes, hat, jacket, bow, the more you look like a ninja the better.  So I was trying to black out my face with camo face paint and was using the digital camera to check my coverage.  Did I need to check the coverage with the camera?  Probably not, but when you spend, oh about from 4:30am until about 8:00pm sitting in a confined space, you tend to dream up things to pass the time.
Even though I'm starting to despise turkey hunting I do truly enjoy "camping" in the spring.  I'd encourage everyone to make a point of getting out this time of year.  In the early mornings the woods are absolutely alive with all the sounds of spring, it really is an amazing time of year.  As a consolation to not bringing home any turkey dinner for the family, I was lucky enough to find some morel mushrooms.  Maybe next year I'll be eating wild turkey with fresh morel mushrooms.  I'll keep you posted.