Around the first week of November the water in my house froze, and this was somewhat expected, because of the severe weather in Eagle…  The end result is that we now live in a dry cabin, which means we don't have any running water, and probably won't until May.  We utilize an outhouse, and haul water for dish and personal washing.  The dish washing isn't that big of a deal.  Luckily the cabinets under the sink are the perfect size to accommodate a 10 gallon Rubbermaid tub under each side of the sink, and after removing the existing drain pipe and covering the pipe with plastic wrap, the tubs are now our drain system.  We can still utilize the sink to do dishes we just have to pull the rubber made tubs out daily and dump the gray water.  We heat water on the wood stove in a turkey frying pot constantly so we always have hot water available for washing.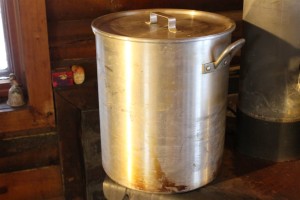 Personal washing is a little trickier.  Because we can't utilize the shower drain we have to stand in/over a 15-20 gallon Rubbermaid tub for this task, and although we do have hot water via the wood stove it just isn't quite as satisfying as letting a shower head beat hot water against your back.
Hauling the water entails a sled at the moment, as it has been cold (between 20 and 40 below) and I don't like to run my truck in these cold temperatures.  Luckily the local well house is about a quarter of a mile away and the roads are all snow packed now.  I can fit four seven gallon jugs on the sled at a time, and on average haul water two to three times a week (depending on dishes and washing).  Another option for a water source is the creek that is close to a mile away.  I've been told the water from the creek is more desirable, but the hill you have to drag the sled up on the way home is not.