Warning – this post is a little more graphic than some of my others, mainly the video clip, you've been warned.
This year was my first antelope archery hunt out on the eastern plains of Colorado, near the Pawnee National Grasslands. I got permission from a landowner over the summer. He was even kind enough to turn on this windmill to give the "goats" some water.  Big Ron and I went out a week before the season opened to setup our blinds so the antelopes would get accustomed to them.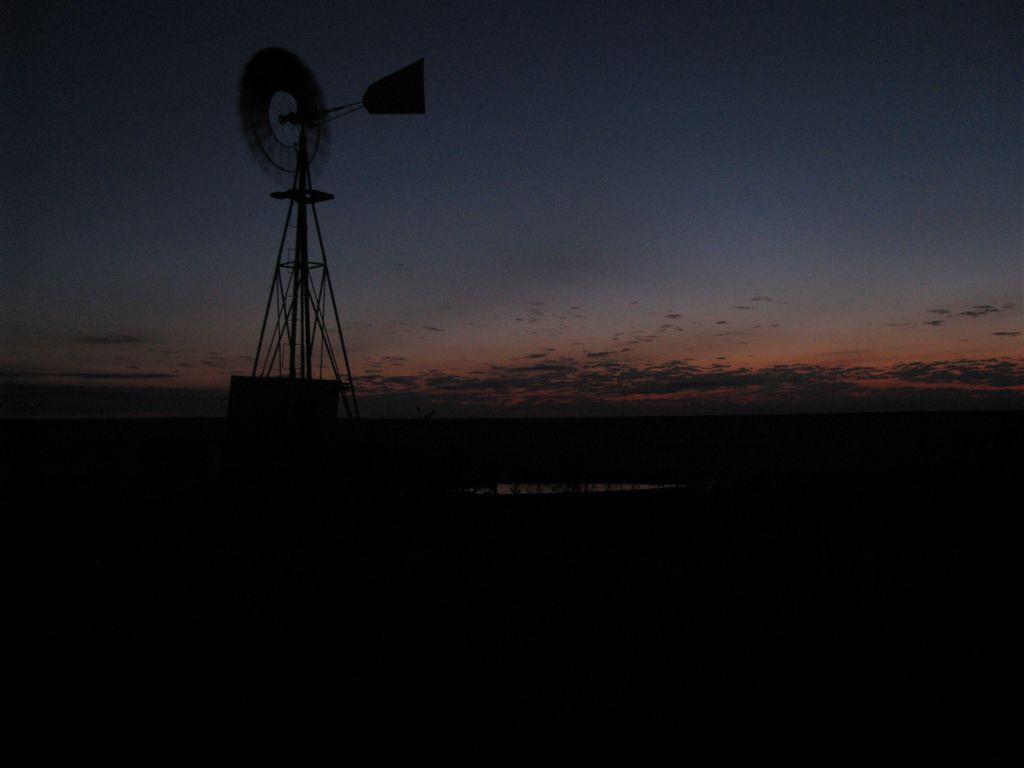 Sunday Aug 15th
Sunday was the opener; I showed up to my waterhole about 5:15 AM opening morning. I spent 16 hours sitting in my ground blind    Saw a few critters, my tag is only good for a buck until Sept 1st, after that both bucks and does are fair game.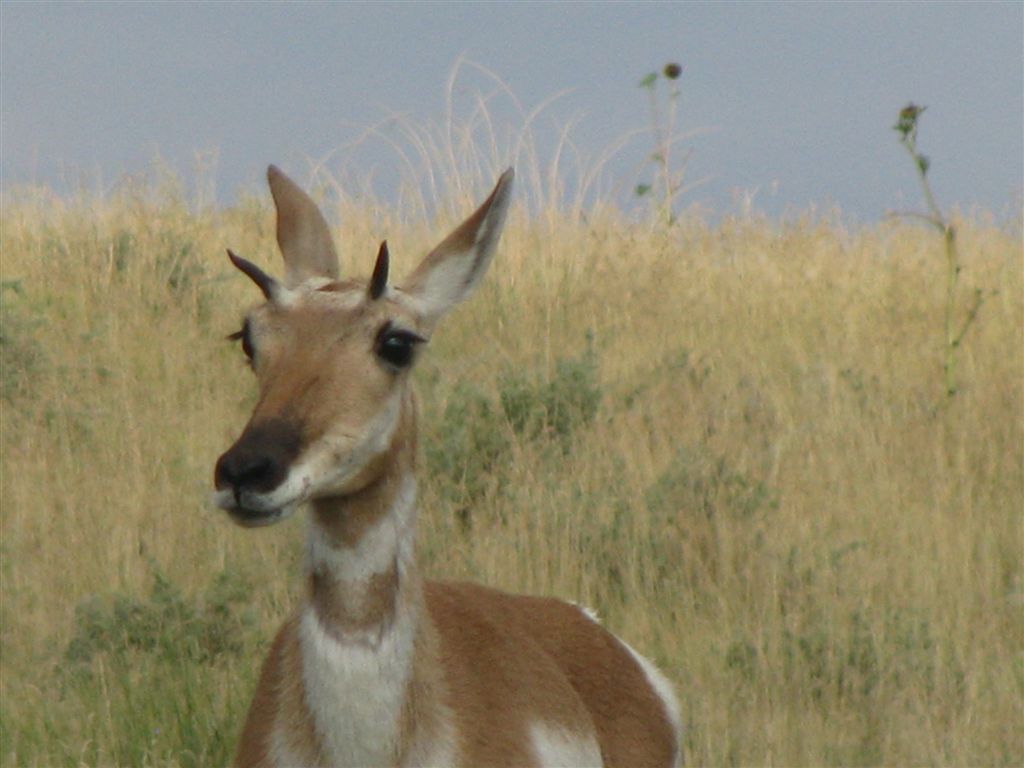 Here's what the country looks like during the daylight.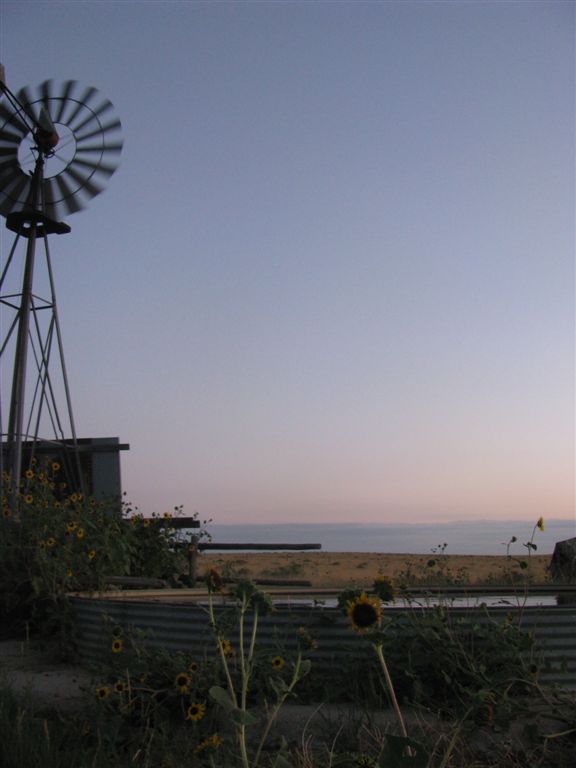 Had a few visitors show up around 8/8:30. There were 11 does in this bunch and a decent buck. If I knew how to sit still in my blind I might have been home in time for lunch, but where's the fun in that?
For those not familiar with antelope both bucks and does grown horns, the does just don't get very big. You can tell a buck from the black patch on his cheek.
Here's the buck that was in the bunch. I took this picture later in the day from about 400 yards away. He's not huge but I still would have been happy with him. They did come into water right before sundown but things just didn't work out.
Did I mention I've never been antelope hunting before this year? It seems like I'm always too busy getting ready for elk season to open.
All in all it was a pretty sweet experience.
Saturday Aug 21st
Made it back out this weekend. Didn't get to the spot until about 4pm on Saturday afternoon. Checked out the pasture before hiking down to my blind to make sure nothing was out there. Everything looked good so I started making my way down, maybe a 1/4 mile. About 100 yards from the blind four does are starting at me. Great
I figured well I'm already busted so I keep heading for the blind. They trot off but didn't act too scared. I was pretty bummed thinking I'd just blown the afternoon/evening hunt. I barely got my chair setup when I had another doe at the water 20yrds away. Where'd she come from? Then another and another. I looked but couldn't see a buck. After a few minutes I decided to take a couple pics.
As soon as I'd taken a couple pictures, I happened to catch the buck out of the corner of my eye coming in from behind me. I should mention that I can see miles in every direction except for directly behind me, so you know which direction they're guaranteed to come from. Since the does had already been watering for several minutes he came right in. I was able to get drawn back, settled in for the shot a let an arrow loose. I thought I'd hammered him. He spun and ran, at about 35 yards his off side was covered with blood running straight down his leg. I was waiting for him to fall. At about 85 yards he stopped, I'm still waiting for him to topple over but he didn't. After a couple minutes he took a couple steps, then he'd pause for a few seconds and take a couple more steps. This didn't look good.
I got my binos up and the hit still looked good but obviously was off, or else he'd be dead already. He kept walk/pausing for another hour finally bedding about 250 yards out. He bedded in a slight depression and I could see his horns were still up but I wasn't going to do anything until they were down. I waited for about another hour and his head was still up so I decided to back out. I was able to sneak out and glass him from the county road from about ½ mile away. I waited until dark and he remained bedded with his head up.
That makes for a long, restless night's sleep.
Sunday Aug 22nd
Sunday morning couldn't get here early enough, I had no idea what I might find. I always say plan for the worse, hope for the best. So while I was hoping he'd be dead where I'd left him, I packed like I might be in for a long day.
At first light I get to the county road, and sure enough he's in the same spot and he's still looking at me. Well this isn't good.
My dad came out to hunt with me this day and he decided to go sit in the blind. I didn't know what to do. I finally decide I'd go sit in the blind also to keep an eye on the buck. But this time he saw us walking in, he stood up and started walking out of the field. This is really what I didn't want to happen.
Long story short, I spent the rest of the morning trying to keep tabs on him. Finally around noon I was able to crawl my way out to him and put him down for good.
I was pretty bummed that I didn't put him down quickly from he start. I know none of us want any animal we're hunting to suffer and hope for nothing but a quick death. In the end I was glad that I was persistent. There were a couple times that morning I really didn't think I had a chance. But when I found him bedded that last time, I threw my game bags, knife and some water in my backpack and started crawling through the cactus. Knowing that I if I took my time I'd get my first goat. Positive thinking can make a big difference.