We're heading out this Friday on our annual week long Elk Hunt to our favorite wilderness area. This year we're planning on being out for 10 days, on a bivy trip. For those that don't know what bivy refers to, it's from the word bivouac and essentially means we'll be carrying camp, food, clothes, hunting gear, everything we need to survive a week on the mountain on our backs. The key to this is keeping things simple, light and no thrills.
Probably one of my most important pieces of gear, my sleeping bag.  I picked this one up last year.  It's a Marmot Helium 15 degree bag, 2 lbs, packs down to the size of a load of bread.  Awesome!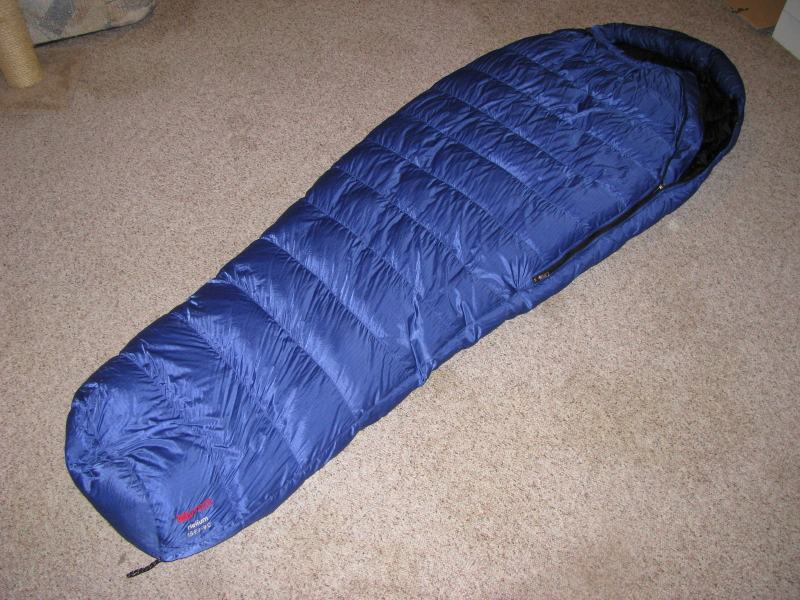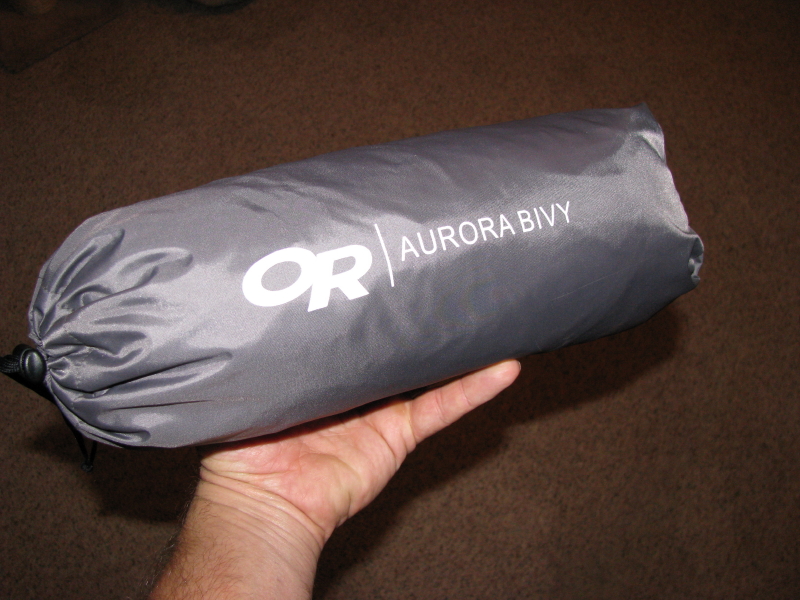 Probably the next most important piece is the bivy sack.  Mine is a Outdoor Research Aurora, weighing in at 1.5 lb.  This is essentially a Gore-tex shell that fits over the sleeping bag, keeping you dry.
Unfortunately that's about all it does, not much room to move around in this thing.  But it is light and packs pretty small.  Next year I will likely look at a ultralight one man tent.  I do use the bivy sack in conjunction with a Golite 8'x10′ sil-nylon tarp. I can't remember the weight on this but it's not much maybe 12 oz.?  This gets hung over my bivy/sleeping bag and gives me someplace dry to get dressed in the morning.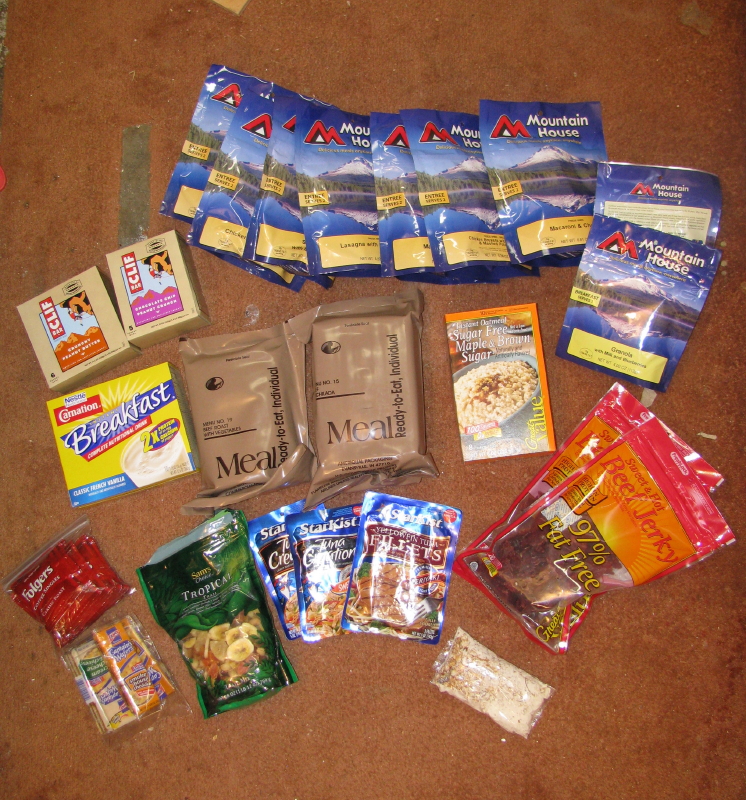 Next, here's what my weeks worth of backpacking food looks like.  I plan on eating dehydrated meals (Mountain House) for most my dinners.  For a couple evenings I plan on eating MRE's.  For those that don't know that's a Meal Ready to Eat courtesy of the US military.  They're actually pretty tasty, have a long shelf life (5-10 yrs. ) and come with a pretty good variety of stuff inside.  I always keep a few at the house year round in case of an emergency.
MRE's come with their own heater device, just add water and a chemical reaction occurs heating up the entree and a hot beverage.  They even come with Folgers and Tabasco sauce!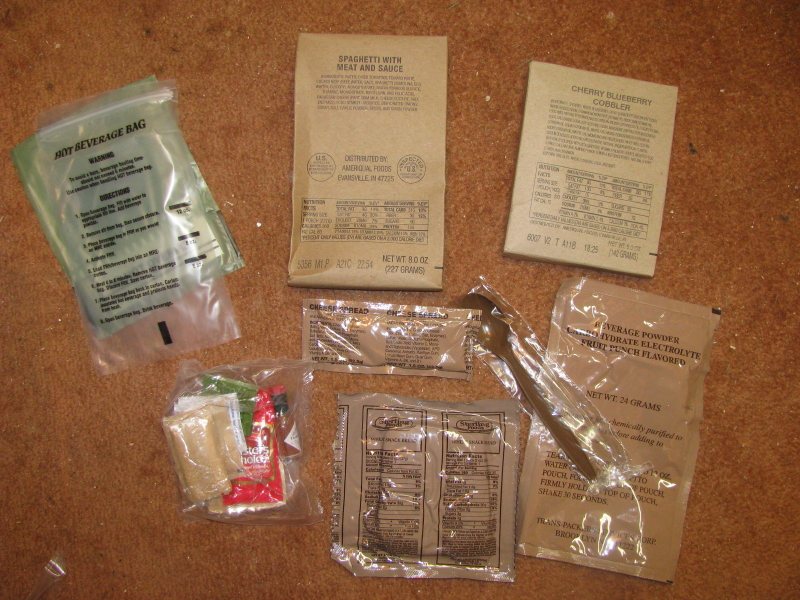 Not pictured here is my breakfast of homemade granola (thanks Wendy), protein powder and powered milk all in individual Ziploc's, just have to add water.  Lunches are pretty much snacking on jerky, Clif bars, trail mix, crackers and hard candies.  This year I'll also trying some of the tuna and salmon in the foil packets.  Might even throw in a few tortillas, bagels, Ramen noodles for variety.  Daily calories.  Mountain House meal 560, Granola with protein powder 710, Jerky 150, Trail mix 300, Instant breakfast 130, Clif bar 250, Instant oatmeal 130 – total 2230.  I'll likely have a few more calories than this but it's close.   And you never know when your diet might be upgraded with a Blue grouse or cutthroat trout.  I try using the backpackers rule of thumb, an ounce of food should contain a minimum of 100 calories but I don't get too carried away counting calories, it takes all the fun out of things.
Here's what the rest of the stuff looks like.  Most of my clothes will be on my back, with the exception of a spare pair of pants, shirt and socks.  The rest of my clothing will be based on the layering principle with a wicking base layer next to the skin and thicker layers (either wool or fleece) from there.  And finally a waterproof outer layer.  I guess we'll see how it all preforms, it's already getting awful chilly up there at night, gives me the goosebumps just thinking about it.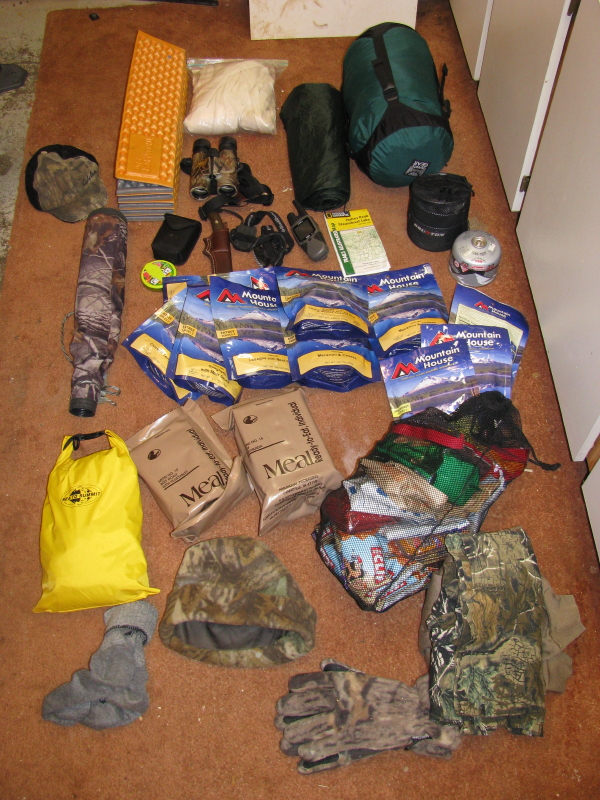 Some of this stuff includes, tent/bivy, sleeping pad, games bags, cookset and MSR PocketRocket stove, extra fuel, food, binoculars, knife, rangefinder, GPS, elk bugle tube and diaphragm calls, headlamp, ball cap, gloves, spare clothes, toilet paper/wet wipes and my possibles bag.  The possibles bag is essentially a survival kit and has everything I need to stay somewhat comfortable on the mountain overnight.  The bag itself is a waterproof dry bag, the type kyackers use.  This way if I fall in a creek or get caught in a downpour everything stays dry.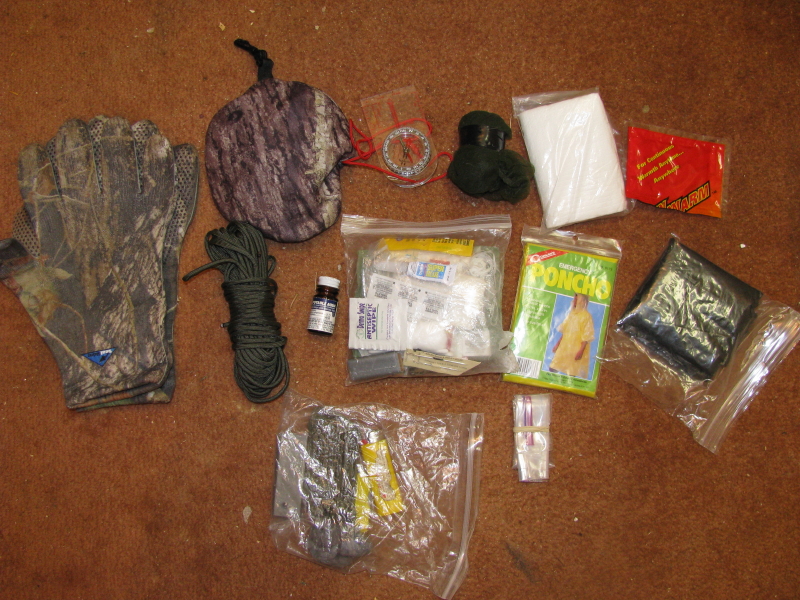 Which includes: waterproof gloves, a collapsible hat, 50′ of 550 para cord, iodine tables (water treatment), compass, bug net, toilet paper, hand warmer, needles/thread, Advil, antihistamines, duct tape, moleskin, superglue, antiseptic wipes, emergency poncho, trash bag, 1 qt. Ziploc bag and finally my fire starter kit.  This I consider the most important and it includes a Bic lighter (these things are more reliable than the fanciest mountaineering lighter) magnesium bar with flint stick, dryer lint and my favorite a trioxane bar.  These things are four for a buck at any army surplus, ignite under any weather conditions and burn long enough for any city slicker to get a fire going in the rain.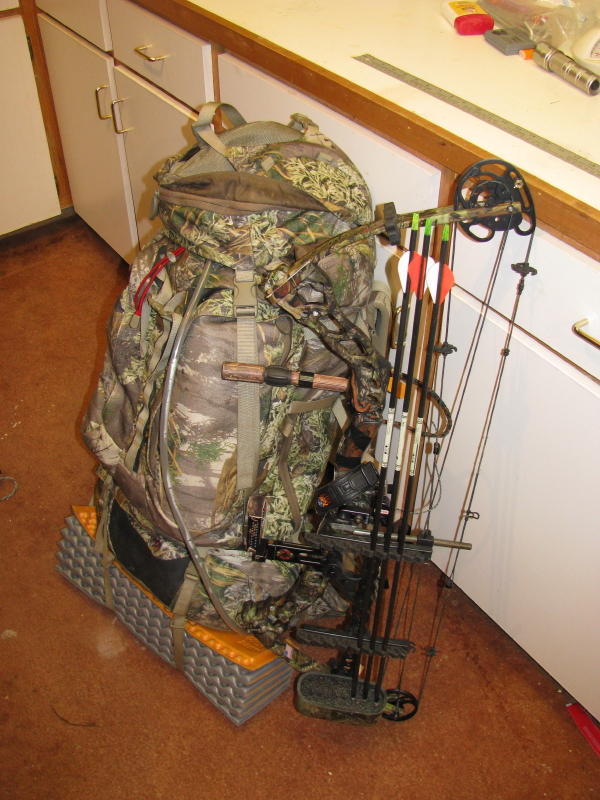 And finally the pack loaded up.  Total weight 44.5 lbs including 96 oz. of water, or 52.5 lbs with the bow.  The unfortunate thing is that I'll probably end up throwing in a few more odds-n-ends.  But we may also elect to leave half the food at base camp and return at mid-week.  I guess we'll see.  Half the reason I wrote all this down is hopefully to simplify packing next year.  I had a tough time remembering what I needed this year!