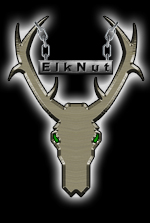 Here's something I'm excited to share. Both Drew and I were recently selected to represent Elknut Outdoor Production as field staffers. What's a field staffer you may ask?  In essence, we're encouraged to tell others about the products Elknut Oudoors offer, which is something we've both been doing for a long time. Since we've both been huge fans of the material and attribute it, in large part, to our increased success, this is a great role for us.
For those who are not familiar with Elknut Outdoors, they sell CD's/DVD and books dedicated to helping hunters understand elk vocalizations. This material was hugely important to us as we realized that our reactions to the sounds we were hearing in the elk woods were typically wrong, or at best a lucky guess.  Once we started to understand what the elk were saying the outcome of our encounters changed dramatically.
If you're looking to better understand what's happening and the sounds you're hearing while in the elk woods this is a great place to start.
And if you're interested in seeing our short bio's on Elknut's website follow the link Elknut Outdoor Productions and click on Field Staff button on the left hand side of the screen.