I scrambled feverishly looking for a toehold as I dangled from the cliff face… is how I thought I'd be re-capping this hunt; oh how different it turned out to be!
As I sat there gently rocking back and forth in the passenger car on the Durango/Silverton Narrow Gauge Railroad, I had the same feeling as sitting in the locker room before the big game, butterflies in my stomach, wondering what the outcome of the next several days would bring. The butterflies weren't from the fact that we were departing for a weeklong adventure or because we'd be separated from civilization by miles of wilderness, but rather due to the fact we had the added logistical piece of having to catch the train back to Durango if we had any equipment issues or something was forgotten from the packing list. The butterflies weren't helped by the fact I'd started out my trip the day before and had made it all the way to Denver before realizing my hiking boots were still sitting on the garage floor (thanks again Wendy for meeting me halfway!) Knowing I somehow managed to miss a piece of gear that important didn't give me the confidence I was looking for.
After ten years of applying for a Mountain Goat license I had finally drawn a tag for unit G-5, Colorado's only archery-only goat unit. For those unfamiliar with Colorado license allocation system, the state is broken into multiple GMU's (Game Management Units), and a varying number of tags are issued for each unit based on the herd objectives biologists set to control animal populations. This ensures the habitat and resources are appropriate for the number of animals living there. For species such as Mountain Goat, Sheep or Moose an individual must apply for three years before becoming eligible to draw a license. After applying for the mandatory three years licenses are issued on a modified lottery basis. I say modified, because each year after the initial three years the applicant is awarded a preference point for that particular species; from there it gets a bit complicated, especially for this story, but the takeaway is some licenses are very hard-earned.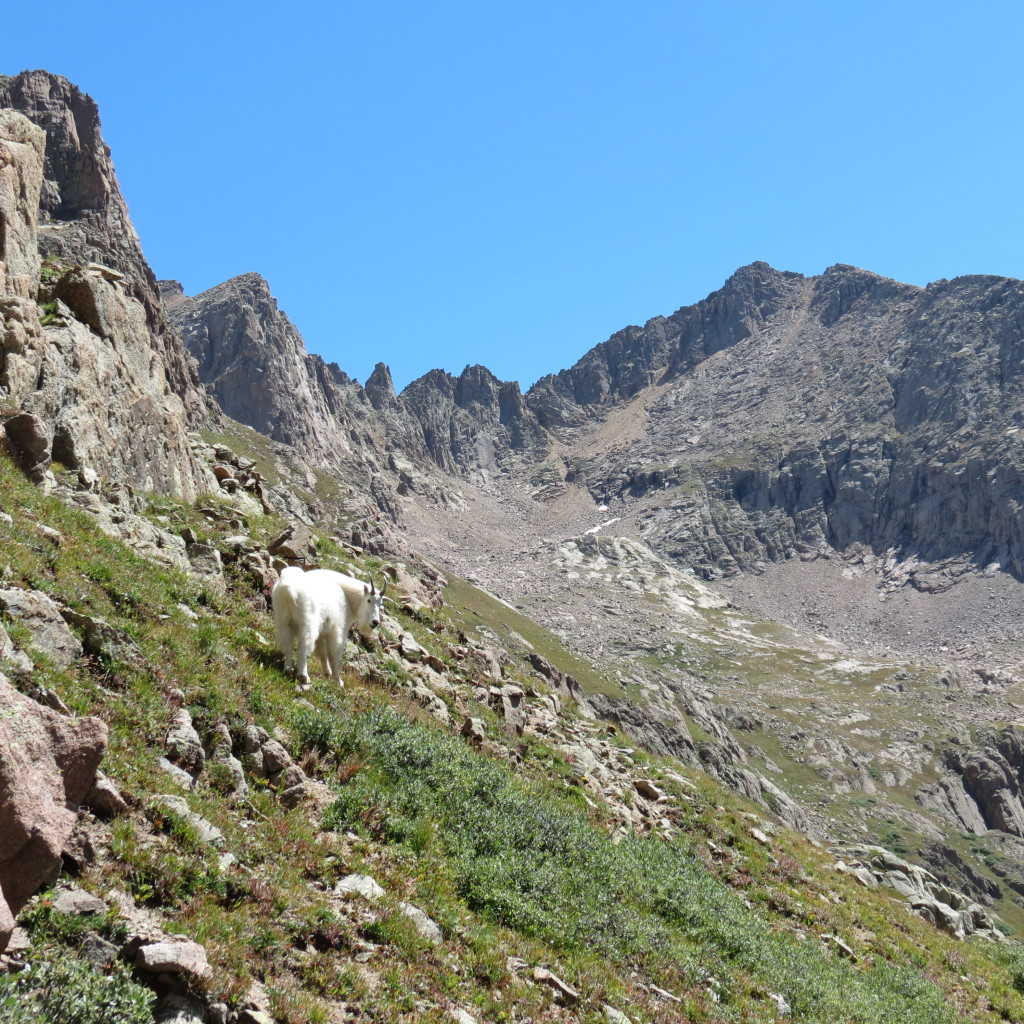 The other unique thing about this particular place is it's a very popular hiking destination, as there are three 14'ers (mountain peaks over 14,000 ft.) that can be accessed from a single basin, so it sees travelers from around the country and world. And while our typical back-county hunts normally take us far away from the majority of folks, this hunt was exactly the opposite.   We were planning on walking a long way to share some amazing scenery with lots of people, weird I know. It was something I normally wouldn't be very excited about, but it was the goats we were after that called this particular basin home so we were willing to change it up a bit for this trip.
Because of the high traffic this area sees there are also special regulations within the basin in addition to standard Forest Service or wilderness requirements. No campfires were allowed, and the standard of burying human waste does not apply; when they say leave no trace, they're talking a whole different level in this place!
The basin itself is an amazing place, surrounded by 14ers and with goats wandering by without a care in the world. For a very unique hiking destination, I'd highly recommend this place to anyone. The trail in was no cake walk, but not much different than our typical hunts, maybe a bit longer and steeper sections but overall we felt right at home. I do have to admit I gained a lot of respect for the hikers who pursue the 14ers over the trip. We arrived a day early to scout and glass, and before heading up I'd thought maybe we'll just hike around and bag a couple peaks while we're there. Once I saw what those peaks looked like in person I decided I didn't have an urge for any climbing… those are some serious chunks of granite!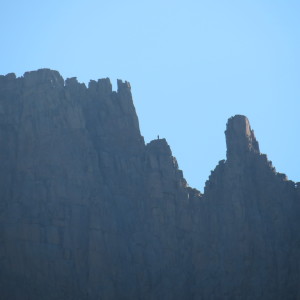 To further complete matters I had also drawn a sheep license (ewe) for the same season. While thrilled that I had been so fortunate to pull two coveted tags in a single year, this also created some logistical challenges with finding enough time to do both licenses justice. As a side note, I've been on a personal quest to harvest all of Colorado's Big Eight species (Whitetail deer, Mule deer, Rocky Mountain Elk, Black bear, Pronghorn antelope, Rocky Mountain Goat, Bighorn sheep and Mountain Lion) with a bow arrow for many years. Long time readers will know I missed my shot at a Bighorn horn ram several years back, so this was my redemption year! When I drew both tags I realized that I had an opportunity to take two more species, leaving only Mountain lion to finish up the Big Eight. So with some of the backstory, this was my mindset going into the hunt: I was on a mission to get it done and get it done quickly.
Back to the basin, it's no secret that the goats that call this basin home have become habituated to people because of all the human traffic. In fact, the population of goats in the basin has gotten to be many more than the fragile alpine environment can support and the biologists want herd numbers reduced. I struggled with this before the hunt and maybe even more so afterward. I knew I wanted to get in and out as quick as possible, so I could get on to my sheep hunt (that story coming soon) but as we passed hikers coming down the trail and told them we were hunting goats, most almost laughed, and it became apparent that we had gotten ourselves into something way out of our league on this one.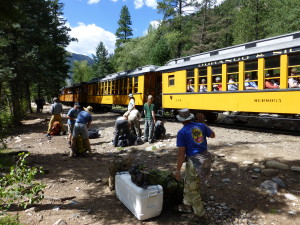 We left Durango two days before the season opener, allowing ourselves one day to ride the train to the Needelton depot and hike up into the basin and the second day to do some scouting/glassing and hopefully find a respectable animal to hunt for opening morning. The train ride up was fun and we were excited to start hiking once it dropped us off. We spotted one lone billy on the long hike in and the scenery continued to grow better and better as we gained elevation. As the miles wore one, Big Ron made the astute observation that "why are we hiking all the way into the basin when we're just going to have to haul camp AND a goat all that much further?" After that thought had time to settle in, maybe because he kept repeating it :), I decided he was right so we pulled off the trail just shy of the basin proper and called the spot home for the next couple days. By the time we got camp situated, it was pretty late in the day. We hiked a bit more that evening and did a little glassing but never saw another goat.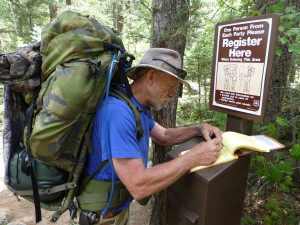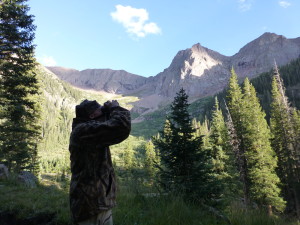 The next day we were excited to see the basin first hand and it didn't disappoint. The first goats we ran into were just feet off the hiking trail. We stopped for a bit and took some pics, and as we continued further up the basin we realized goats were literally everywhere. Running around camps, hanging in little bunches here and there, everywhere. It quickly became apparent the hardest thing about this hunt would be shooting a goat on the down-low so we wouldn't traumatize any of the hikers!   We spent the rest of the day hiking up to Twin Lakes, we did find what we thought were some "wild" mountain goats bedded way up on the hillside, until a bunch of nannies came walking by us which brought the billys racing down to check out the action. All in all it was a pretty outstanding day, hiking around at the top of the world with goats running all around us, like we were living in some fantasy world.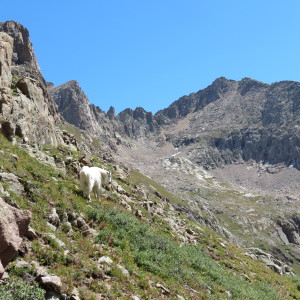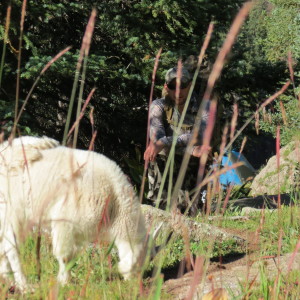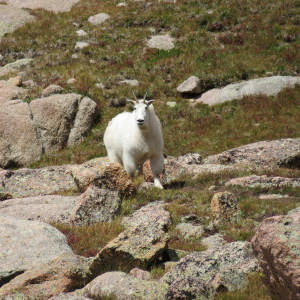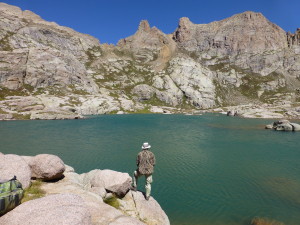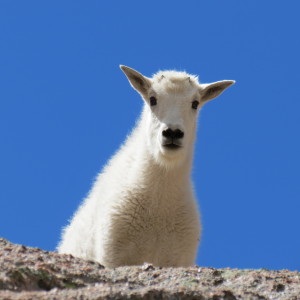 Opening morning arrived and again the butterflies were back but for a reason I would have never expected, mainly knowing we were going into a "hunt" that had some of the most bizarre parameters I've encountered while hunting, or more specifically getting it done without the hikers having any clue as what was transpiring around them.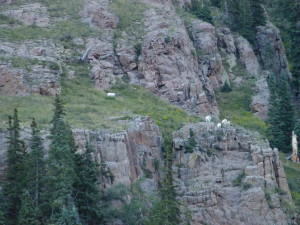 When we made our way into the basin a moment of panic set in as there wasn't a goat to the seen. However, after several minutes we realized all the goats take refuge high up on the surrounding peaks during the night then filter back down into the basin; at daybreak they were headed our way. I'm actually going to skip over the details of the kill, because in all honesty it was a bit anticlimactic. I'll never apologize for doing what we do as hunters, in my mind there's nothing more natural than when I step into the woods and I can literally feel those predatory instincts so deeply embedded in my DNA wash completely through me. To deny that is fighting millions of years of evolution. But I do understand that the majority of folks would rather have no idea of the specifics of what is we do while "out there" and I respect that. I'm grateful the actual kill went exactly according to plan, my arrow was spot on and the goat didn't travel more than 20-yards before tipping over.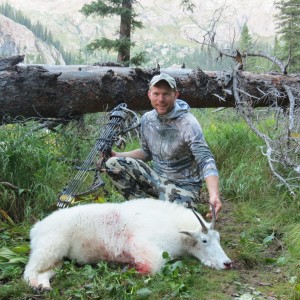 To say it was a strange hunt would be a huge understatement, there were numerous times I'd look to Big Ron and we'd both kinda shake our heads. There are goats in the unit that are not accustomed to hikers, but to access those I knew I'd could easily spend my entire month long season climbing peaks with names like Leviathan and Purgatory. So while the "hunt" itself is something I'd do differently, it was still an amazing trip. Everything from riding the train, to spending some time in amazing county and most importantly spending some quality time with my dad is something I'll always cherish. Overall it was a trip I'll never forget.