Sunday – Sept 22nd
Gusting winds through the night made for some rough sleeping, especially when you start hearing trees snap off with the bigger gusts (40-50 MPH according to our NOAA radio).  Even though we do a good job of scouting out our campsite for any potential threats that first crack makes your heartbeat kick up a notch or two!  And I can assure after that first tree snaps off, every big gust thereafter has you cuddling up in the fetal position making sure you're caught up on your prayers.  Here's the scene we woke up to the next morning right on the edge of camp.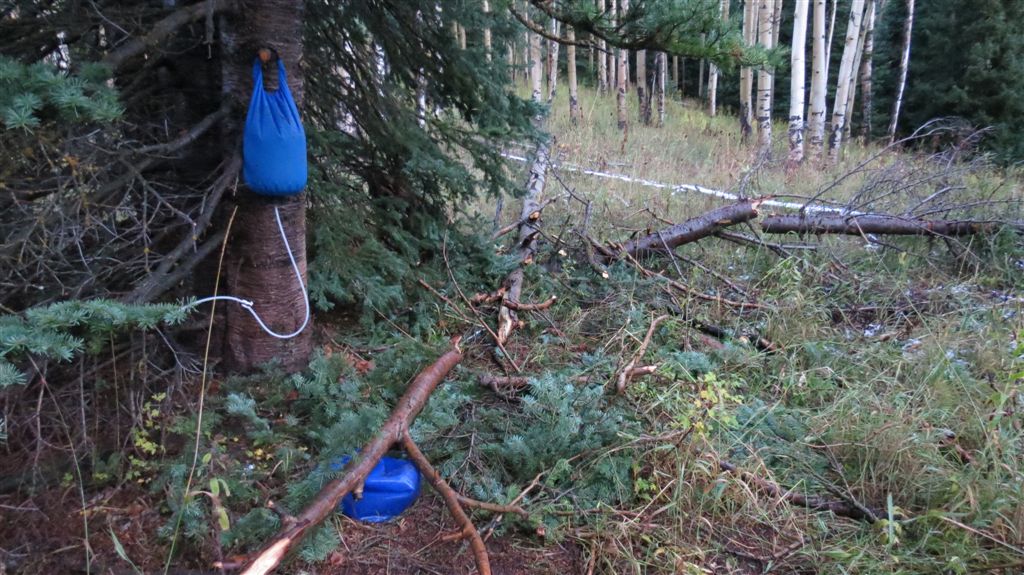 All four of us decided to hunt together Sunday and early morning found us perched above a couple big bulls fighting for the ladies.  The best part, we had just sent the Goat-Ninja down into the mix to work his magic.  We could see the thick patch of timber, about 30-50 yards wide that the big boy was screaming from and when we saw Drew step inside his den we were certain that bull was a goner.  But apparently Drew was met by a wall of timber that the old bull was hiding behind and he had cows at 10 yards he couldn't get around.  So they ended in a stalemate and the herd eventually worked off into the distance.
The rest of the day wasn't terribly exciting but a storm rolled in and seemed to park overhead.  While we tried to hole up during the heavier downpours we were all pretty much soaking wet by the time we came sloshing back into camp that night.
Monday – Sept 23rd
Monday was another pretty slow day, the big winds continued to howl and everyone pretty much started out the day in wet clothes.  We did notice a marked change for the worse in overall elk numbers this year but that's what it's all about, knowing that things change from year to year and how to overcome and adapt.  My big take away from last year was to make sure I had my bivy gear and was ready to go seek out greener pastures if need be.  It was starting to feel like it might be time to do some exploring.
Tues – Sept 24th
By Tuesday everyone was starting to feel the miles walked and the wet clothes didn't help much either.  So we ended up hanging around camp for the better part of the morning.  The day before we'd heard quite a few bugles coming from far down the valley, in of course some of the steepest, nastiest county around.  Everyone was getting a little complacent at this point in the hunt except for the Goat Ninja, who of course goes like the Energizer Bunny.  While the rest of the crew was plotting out plans that kept them closer to camp, Drew was stuffing his bag and overnight gear into his pack.  We assured him that he needed to go where the elk were and he'd have plenty of muscle to help pull them out of whatever hole he found himself.
So who do we get a call from on the radio later that night?  Salty Drew, got over to the spot where we'd heard them bugling from the day before and did what he does best, knocking down a nice six-point bull.  He assured us he didn't need any help that night but could use a hand packing the next morning.  We found out after the fact he was up until after midnight quartering and hanging meat, which kind of made us feel like losers, especially since we were in camp celebrating on his behalf. 🙂
He's all our hero because he's one tough S.O.B. although nobody ever claimed him to be the smartest of the bunch, as he slept about 20 feet from the carcass hoping no bears would bother him.  At least he did admit that it was a little unnerving sleeping that close to the remains knowing the potential visit he was likely to receive when the evening predators started making their rounds!
Wednesday – Sept 24th.
Kyle, Tim and myself set the alarm clock extra early to go help with Drew's recovery mission.  It wasn't a bad hike, really only a couple miles but I'm pretty sure we all noticed how we kept going, down, down, down…  And for those who know what strapping quarters to a pack is all about, what goes down must come up.  Still with 4-sets of legs what should have been a fairly hellacious pack out wasn't too bad.  After we got the quarters safely situated Tim and Kyle headed back down where all the action was.  Apparently Kyle was dogging the herd for a bit but the afternoon winds, were not kind and before long headed for parts unknown.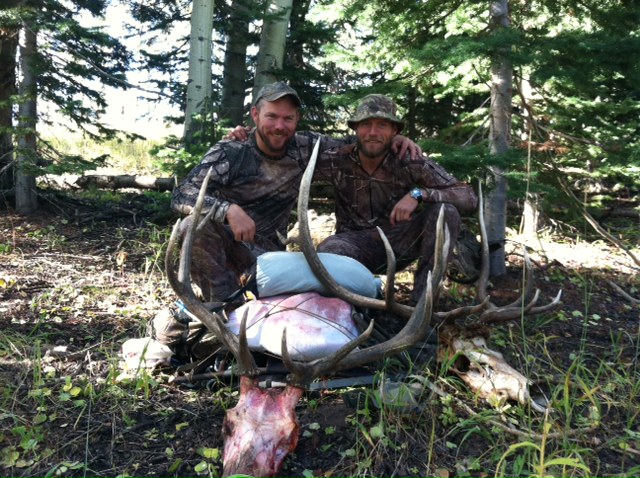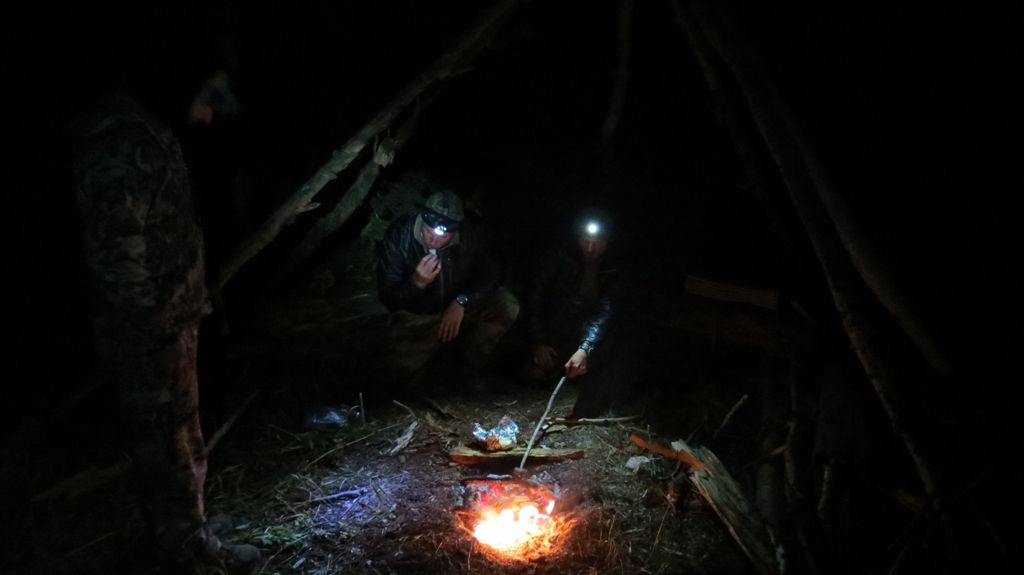 Thurs – Sept 25th.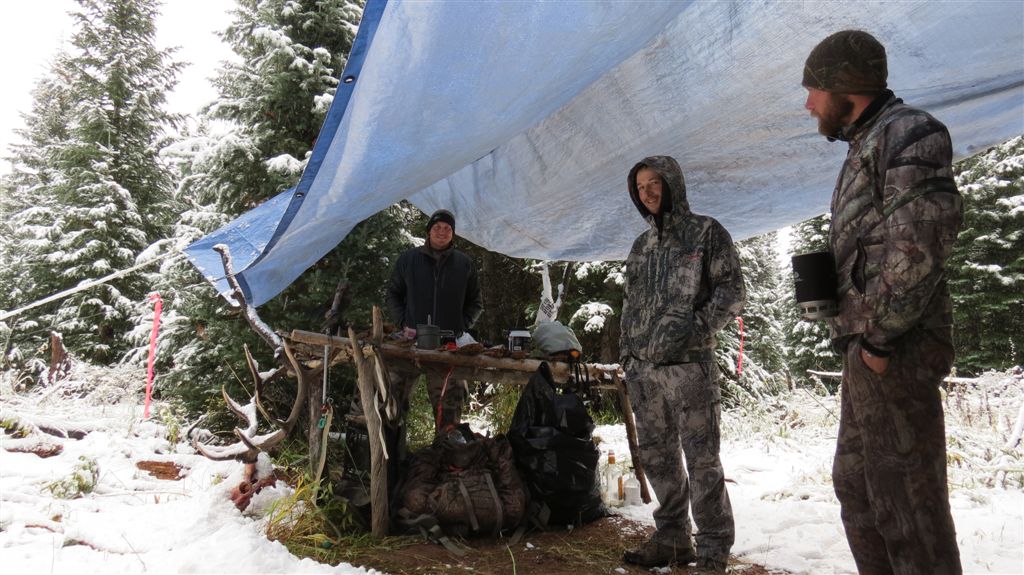 We've learned to keep an eye on the weather while in the backcounty and it sounded like we'd better get ready for some rain and snow.  Knowing the forecast wasn't the best nobody was too excited to bivy out to where Drew had killed his bull and where we knew the action was.  To makes matters worse Tim and I ran into a guide and his hunter and they were setup, blind calling, only a couple hundred yards from camp, at least we knew why we weren't seeing the elk number we had in past years.
We spread out a bit that afternoon and checked out some new country.  Tim and I did have a close encounter that ended in him letting an arrow fly at a bull from a distance I won't embarrass him by publicly disclosing. 🙂  Stranger things have happened in the elk woods!  We went to bed with snow starting to spit that night.
Friday -Sept 25th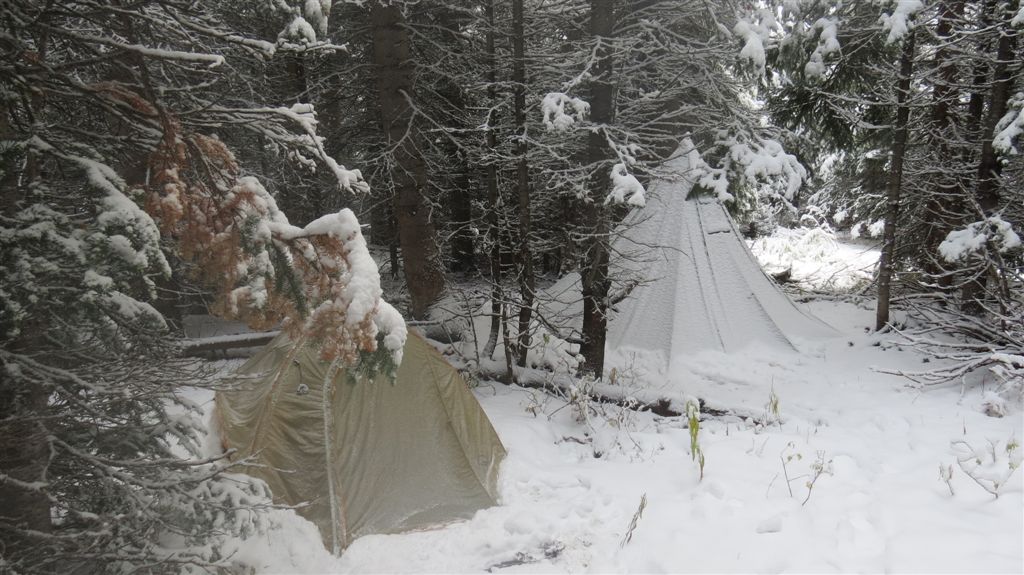 Woke up to 14 degrees and snow falling at a pretty good pace and as it continued throughout the day, we were all hoping the forecast was accurate.  Calling for no more than 6-8″ but the pace it was coming down we started having flashbacks of our 2006 hunt that some longtime readers will remember, where 6-8″ turned into closer to two feet!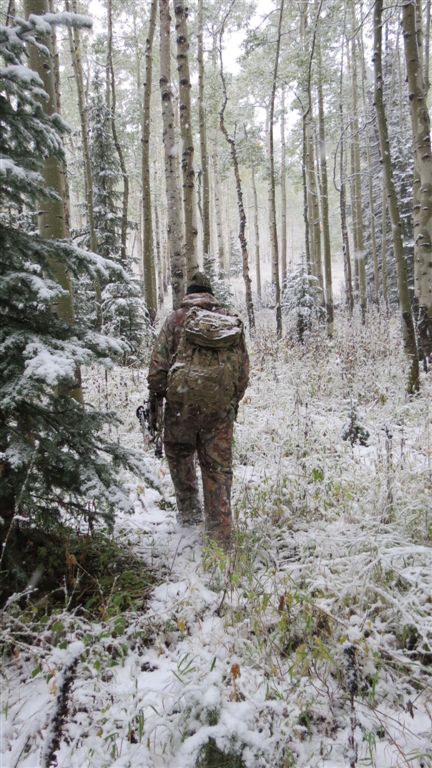 Still hoping to fill our last two tags we hunted during the storm but the critters must have been hiding out, like we should have been, because the woods seemed all but empty.  After hiking all day we never cut a single track.
Saturday – Sept 26th
Always a sad day, knowing you've got 11 months of waiting ahead of you before you get to do it all over again.  We did run into one herd on the way out, but I think we were in zombie hiking mode and they busted us long before we saw them.  My favorite quote from the trip "Pain is temporary, Pride is forever"  Cannot wait until next year!