Saturday – Sept 21st
Into elk again!  The morning dawned crisp and clear and we found ourselves amongst the herd in the dim shadows of morning light, as always, on a steep hillside filled with downed timber.   I thought for sure the big bull had seen his last day as we were able to sneak in close while somehow remaining undetected by all the cows in the group.  At 50-yards I could see his entire body (minus kill shot of course) through the trees as he screamed in disgust at Drew taunting him.  Drew and I were a little off with our normal brother telepathy as I wanted a monstrous scream back but Drew was a little more reserved with his calling.  Regardless, after a tense several minute standoff the bull decided he had better go keep the rest of his cows in check and moved out of range.
I quickly tried to keep up, until about three steps into my assault I noticed a bedded cow staring directly at me.  Luckily I was stepping over some timber and was able to take a comfortable resting position as we continued our stare down for the next 5-minutes.  She eventually got bored and went back to relaxing, but not soon after the entire herd started to filter off through the timber.  Another close call… but no meat in the freezer.
The wind was getting worse and worse as the morning progressed, and I was really questioning why we were still out hunting when it felt like we were just blowing all the elk out of the area.  But about that same time, our locate bugle resulted in a response from the nearby timber and it was close!  We decided to risk it with the swirling wind and snuck in as close as we dared.  Another bugle from the bull told us we were directly outside his bedroom.
As I ever so slowly pushed some branches out of my way I instantly stopped as I spotted a cow facing away at 30-yards, about the same time I saw the bull cross in front of me.  I cautiously got clear of the tangle of timber where they were seeking refuge and gave Drew the signal to let out another bugle, he was only paces behind me on the other side of the dark timber I had just entered.  I assumed the bull would make an appearance in a shooting lane directly down the hill giving me a great shot, but as usual my prediction was faulty.  No sooner had Drew's bugle left his lips did the bull respond and I caught motion out of the corner of my eye and realized the bull was headed my way, down the same game trail I was using.
I came to full draw almost immediately as he walked behind some timber, when he came out about 25 yards away, he momentarily paused to raked a tree.  I tried sidestepping hoping a shooting window would open up, but before I could finish he turned and headed directly at me, I picked my spot on his chest and touched off the release.  I saw the arrow hit home and knew I did my job and the end come quickly.  As he spun and ran up the hill toward Kyle I could already tell he was losing his footing.  We all remained motionless for several minutes and heard him collapse.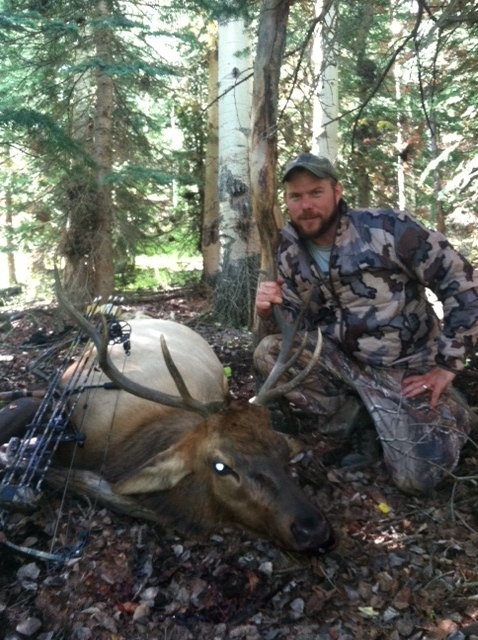 After a quick moment of silence we got right to work.  We actually got extremely lucky as Drew sprinted back toward camp hoping to catch the outfitter when they were dropping our gear.  Kyle and I skinned and quartered like crazy and we had the shortest packing job any of us had ever experienced, about 400 yards downhill!
The rest of the day was fairly uneventful.  Tim hitched a ride into camp with the packer, so the whole crew was in camp and we settled in for the rest of the week.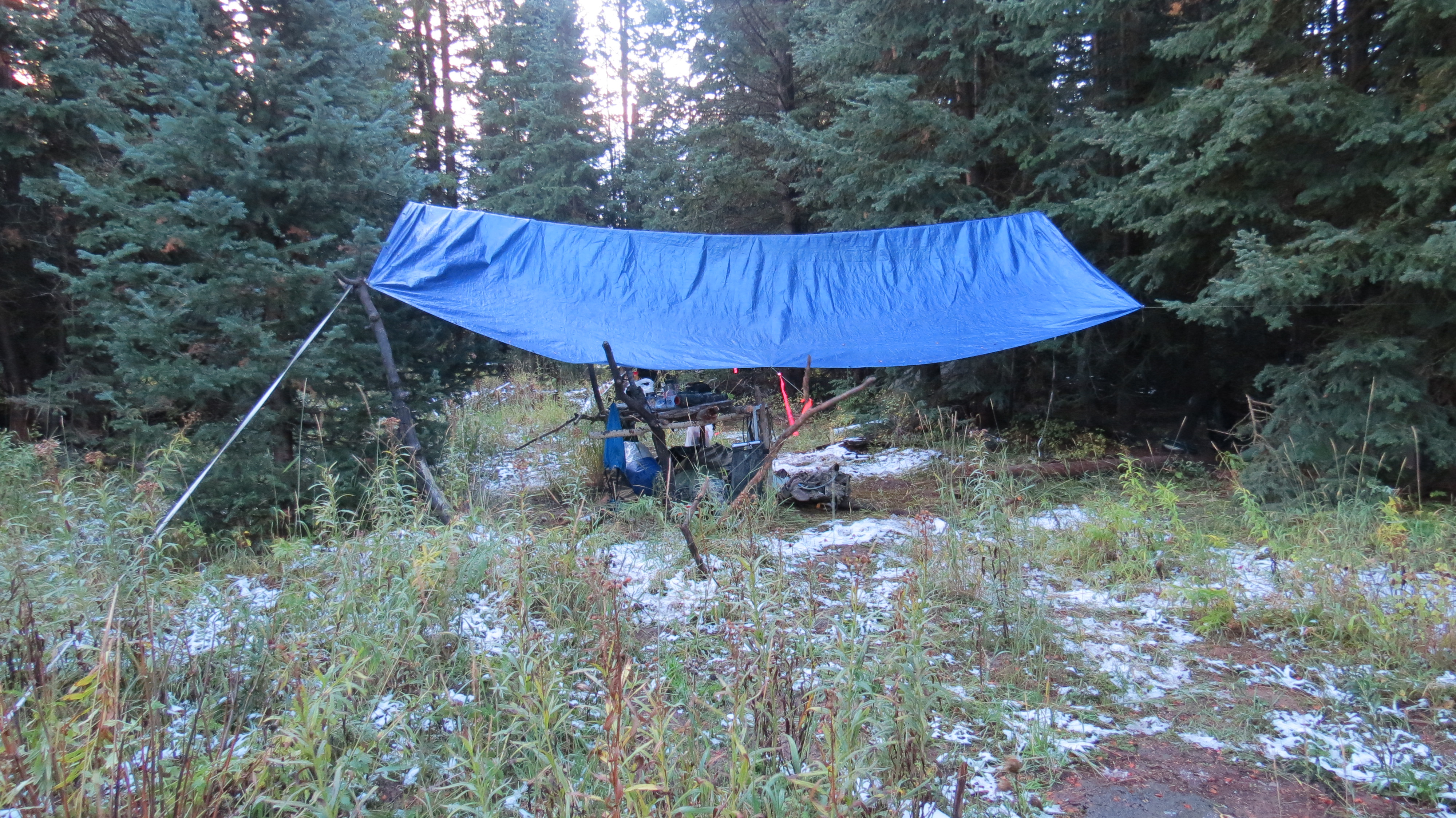 Up next  – Wicked Weather & Drew's Bull